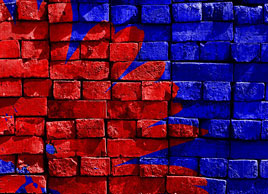 Investors Buying Homes Built Prior to 1978
In a 2011 regulation, the United States Environmental Protection Agency (EPA) admonishes property managers and landlords of homes built prior to 1978 to take special care when renovating. It backs this up with a maximum penalty of a whopping $37,500 fine per incident for violations of lead-based paint regulations. And this is no idle threat. They are deadly serious about this. Violations include such things as failing to follow precise steps for containment during the renovation, failure to employ contractors that have been certified by EPA to supervise the work, and improper or incomplete documentation and disclosures
Please don't make the grievous mistake of thinking that you can avoid the ramifications of this burdensome regulation by defining your work as a simple repair, as opposed to a renovation, which seems to connote major work. You may be surprised to know that according to EPA standards, if your repair work requires disturbing of more than 6 square feet on the interior or 20 square feet on the exterior, you must follow some onerous procedures to contain and dispose of dust, debris, and paint chips emanating from the work site. This could double, triple, or more the cost of the repair.
Be careful when contracting out the job. Many contractors are unaware of these new requirements, but that does not make them exempt from the law. And if you hire a contractor that is not certified or if you do not ensure that a certified renovator supervises the job, you are personally liable for not only the EPA penalties but even more daunting than that, for damages awarded in a potential lawsuit from victims of this newly defined negligence.
In addition to this recent change for renovations, please also remember to precisely follow lead-based paint disclosure procedures. If the property was built prior to 1978, then you are obligated to inform the tenant if you have any knowledge of lead-based paint on the premises, and if any testing has been done to determine this. You also must give them a copy of the EPA lead-based paint guide "Protect Your Family from Lead in Your Home". Noncompliance with this regulation subjects the property manager and landlord to the $37,500 per incidence penalty.
One thing that all property managers and landlords need to understand is that documentation is king. Even if you made all necessary disclosures and precisely conformed to worksite processes, if your documentation is missing or incorrectly filled out, you are subject to citation upon an audit. If you're doing the right thing and fully complying with the law, be sure to document that fact and then securely retain the records.
Daniel R. Wilhelm
Managing Broker
3 Options Realty LLC
http://www.3optionsrealty.com
678-397-1282